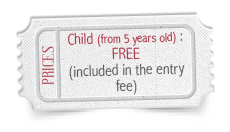 > SET OFF TO EXPLORE !!!
With "Le club des intrépides", children set off to explore tourist sites of Vendee Vallée! At each site, one or several activities have been specifically prepared for them…
At the castle of Saint Mesmin, the children can participate in an activity like quiz, treasure hunts, dressed up visits, notebooks game, workshops ....
1, 2, 3… Go !
Other participating sites :
• Le château de Tiffauges
• Le logis de la chabotterie
• Le refuge de Grasla
• Le chemin de fer de la Vendée
• La cité des oiseaux
• La maison de la rivière
• Le mont des alouettes
• Le manoir des sciences de Réaumur
• Le prieuré de Grammont
• L'espace Gaston Chaissac
• Le site Saint-Sauveur
• Le château de Pouzauges
• Le château des Essarts
• Le château de Sigournais
• Le château de la Grève
• Les moulins du Terrier Marteau
• Au fil de la Boulogne
• Montaigu, 1000 ans d'histoire
• Tepacap Vendée
• La savonnerie des collines
• Labyrinthe en Vendée Vallée
• Splash game 2.0 en Vendée Vallée